RESCUE DOGS AVAILABLE FOR ADOPTION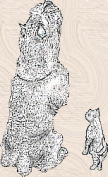 As more people came to know of our love for the Bouvier and our facility, we became an unintentional rescue station for not only Bouviers, but other breeds as well. Within our first month of being in business, we took in 2 rescue Bouviers. Here is a list of the dogs that we currently have available:


FEMALE BOUVIER, Goldie still lives with us and really needs a home. She is a fawn brindle natural eared girl, who is very shy but very sweet. She is only a little older than two and really would like a home of her own. She gets along will with her "roommate", Miracle, who may shortly also be available for adoption.


MALE BOUVIER, Kahn is a 6 year old neutered male, dark gray brindle, natural ears, about 90 lbs. He's a nice dog but needs a strong home. Exceptional guard dog. Very intelligent and learns quickly. Has basic obedience training. Very loving with his people and very protective. Would do well in a home with no other dogs, although he does well with females. No cats and, preferably, no children (he isn't sure about them). House trained, crate trained, loves the car. Microchipped. Strong prey drive.


MALE BOUVIER, "Little" Zeus, 2 year old neutered male, about 24" and 65 lbs. Black, cropped ears and tail. Basic obedience training. Deep, throaty bark. Very loving with his family. Good with female dogs, NO on cats. AKC registered. Drools in the car but tolerates it well. Parents had health checks and complete family history is known. High prey drive.


FEMALE BOUVIER, Glory is a 5 year old spayed female. She is a daughter of a former Southern California Bouvier des Flandres Club Specialty Best of Opposite Sex winner. AKC registered. Hips, etc, have been checked. Very sweet but would have to be house trained. Dark brindle. Stocky build, about 25" in height and about 85 lbs. Calm, not very aggressive with anything, will be easy to live with. Complete family tree available. Would make a loving pet for someone.


OTHER BOUVIERS AVAILABLE We have several other Bouviers available. Some who need retirement homes and some who just need their very own family to love. These are not rescue dogs and complete history is known on these dogs. All do have their ears cropped. These Bouviers range in age from 11 months to 6 years.
Bear's Den
P.O. Box 294168
Phelan, CA 92329-4168
Telephone: 760-868-5008
Fax: 760-868-0368